Page 1
I recently switched from Mac to Windows. Before, my old iMac late 2012 was powering through everything I would throw at it. But finally, after 8 years, switching to a self-built Windows PC put me in front of a question I never had to ask before: What Monitor do I need? After countless hours of comparing specs, prices, and reviews, I realized, the BENQ PD2700U was the only possible choice for me.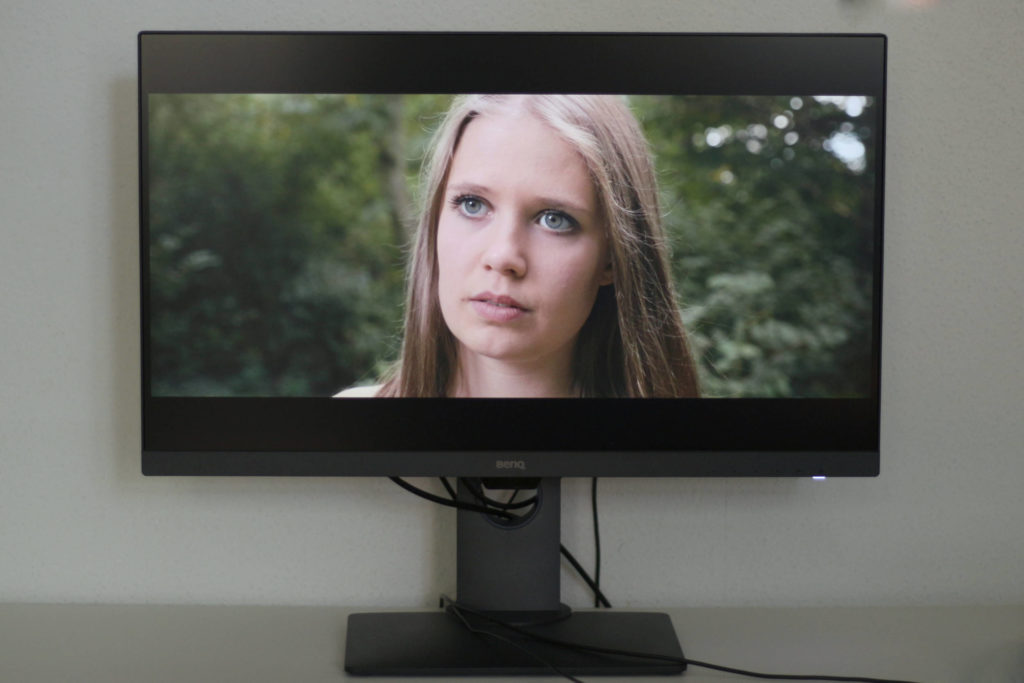 But, my own experience differed from those that I had read and seen online. So I wanted to give my own review, and talk about actually using this monitor. This review is not paid and I bought this monitor with my own money. I do not gain anything from BENQ or other manufactures, which is the difference to the reviews that I have seen.
The main review is here on the first page. The second page offers a quick run down of the DisplayPilot Software, which has many more features.
Package Contents
The BENQ PD2700U comes securely packed in styrofoam with all accessories neatly placed inside as well.
This includes a stand, the foot, and several cables. The lengths of the included cables range between 1.75m to 1.8m (about 70 inches, or 6 feet).
Those are a standard power cable, an HDMI 2.0 Cable, a mini Displayport to Displayport 1.4 cable, where the mini Displayport can be used as a monitor input, and a USB 3 cable for data transfer of the USB ports.
Other items included are a manual, quick start guide, and drivers, as well as a factory calibration report, telling you how accurate the monitor should be. The drivers include the DisplayPilot Software which contains many additional features. You can read about them here on the second page.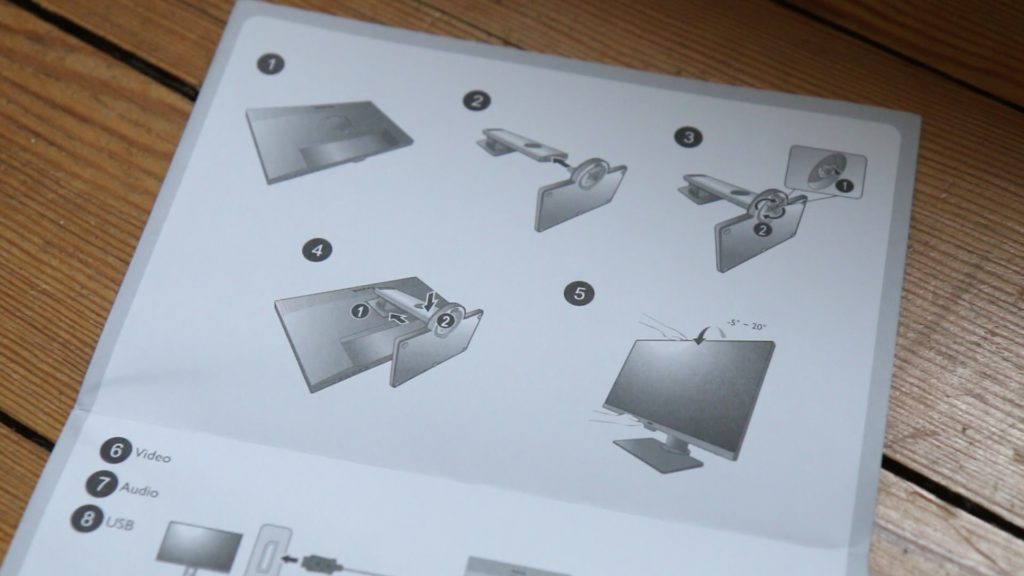 Assembly
The assembly is quite easy. You can use the included stand or use a 100x100mm Vesa mount. I am using the included stand which is pretty good. More about this later.
You only have to place the stand on the foot, and then tighten the screw on the bottom. No tools or thinking necessary.
The foot has several rubber pads that prevent any sliding on your desk.
To secure the monitor on the stand, you only have to slide it onto the stand until you hear a click. You have to press a button below the mechanism to release the monitor.
And this is something I can't stress enough: Every monitor stand should have a handle! This is incredibly useful and stops you from awkwardly moving it from A to B being scared to damage something. Very nice detail BENQ!
BENQ PD2700U Monitor specifications
The PD2700U is 27 inches with a U-HD resolution of 3840×2160. There are other variants of this same product line available that have resolutions of either QHD or UHD and range between 25 and 32 inches.
It is a 10Bit IPS Panel with 60Hz and a maximum brightness of 350 cd/m2, which doesn't sound like too much but I will get into this later. It is also HDR10 certified.
Click here to go to BENQ's website to see all of the specifications of the BENQ PD2700U.
But now, to the most important reason why I bought this Monitor: It can display 100% of both the sRGB and Rec.709 Colorspace. And it costs less than 500€. Meaning, this is the first and currently only monitor in this price range with these specs.
Ports and I/O
It has one HDMI 2.0 Input, a Displayport 1.4 Input, mini Displayport 1.4 Input, and a Displayport Output which you can use to daisy-chain several monitors together. This is something I wasn't able to test since I only have one of these at home.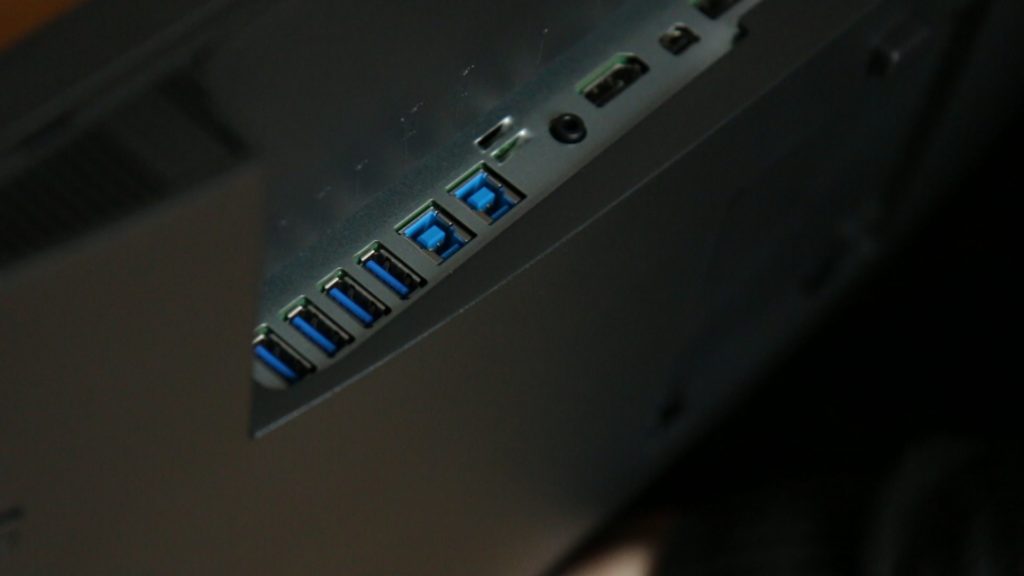 It also features a 3.5mm Headphone Jack which I will come back to in the built quality segment.
It also features two USB-3 Upstream ports to make a data connection available to the four USB-3 Type-A ports. All four work, even if you only have the one USB-3 cable connected to your PC. I haven't tested how fast they are but I personally wouldn't use them to transfer big files since they turn off when the monitor is off or even in standby.
This is something you can change in the settings, but this means that the USB ports are also powered when the monitor is off not just in standby. I would love for this to be standby only or for the monitor to have a power switch, but unfortunately it does not.
I have my mouse and keyboard connected to the monitor, which works great, except that I have to click on one of the buttons on the monitor to wake it and after that, I can move the mouse to bring my PC out of standby.
This variety of ports is not standard so this is a great addition to this monitor that I value a lot.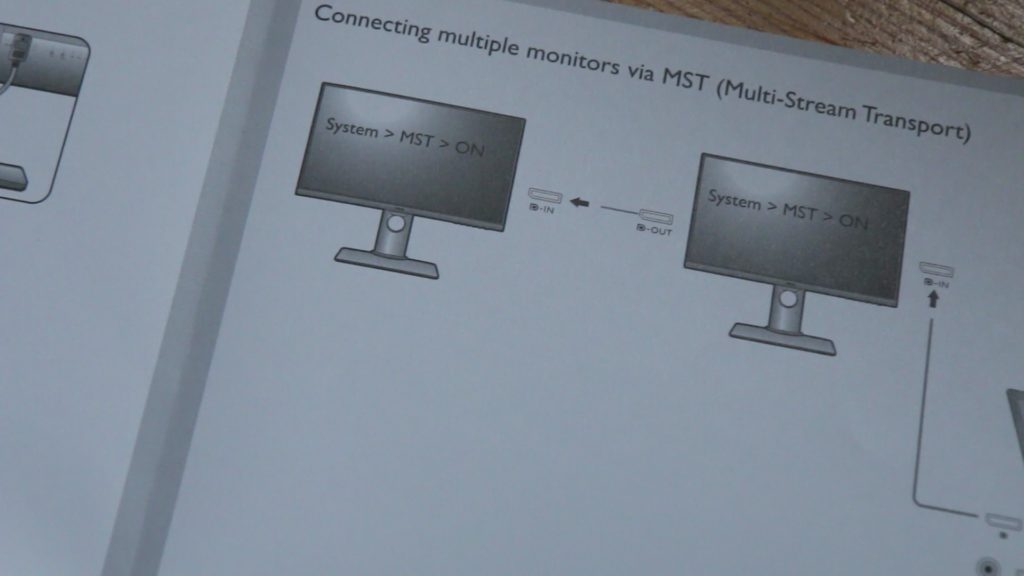 Sound
Not something to expect of such a monitor but yes, it does have speakers. Usually, I would say, since this is a monitor for Designers and Artists, it doesn't need speakers, so it's a nice addition, but in this case, I wish they had skipped the internal speakers. They sound horrendous.
Pretty much unusable for anything. It literally hurts my ears. And I am pretty sure the speakers are the reason this monitor buzzes when in Standby or off. It's not loud but you can definitely hear it when the room is silent. Since the monitor does not have a power switch and only a button, you can't cut it off the electricity easily. You either have to live with the buzzing or unplug the device each time.
You might be thinking, this could be an outlier and other monitors do not buzz, which brings me to the next segment:
Built Quality and Support
The BENQ PD2700U is cheap, so I am not expecting too much, and you shouldn't either. But I can't shake the feeling that BENQ is using cheaper parts than they should. This is because I am writing this review on my third monitor.
First Monitor
The first BENQ PD2700U featured the same buzzing (of probably the speakers) only slightly louder. I didn't find anything about this specific monitor buzzing but several forum posts said this could be a faulty part. The headphone jack was also very sensitive and only worked in a very specific way. And to be honest, I also thought the speakers couldn't be that bad on a product from 2020, clearly, something must be wrong… Well, I was wrong.
I was only two weeks from a bigger job and I was afraid it would break in the middle of it so I replaced it through Amazon. This wasn't an issue, but I didn't have another monitor until a week later.
Second monitor
The second monitor arrived, also buzzing. Not as loud but definitely audible. The headphone jack was also very sensitive and I thought this was normal for this monitor and used it for around three weeks.
After three weeks I noticed that right in the middle, several pixels died. I am 100% sure that the monitor didn't arrive with that issue. This time I contacted amazon in the hopes that only the monitor could be replaced. The amazon support then contacted BENQ for me who got back to me in a day.
The BENQ support always answered very quickly. They never took longer than a business day. While they weren't able to just replace the monitor, they offered to switch everything. Thankfully, I didn't have to send it in and wait for a new one, but the new one was sent and switched on arrival. Very good, because I was in the midst of a project!
Third Monitor
The third monitor, still buzzes when in standby but the headphone jack is definitely less sensitive with less static noise when you move it slightly. And so far, after another 2 months of usage, no dead pixels. For some reason one of the USB ports stopped working with my mouse all of the sudden. My keyboard still works on that port and my mouse still works on a different port. This could be another issue besides hardware and is currently not a reason for me to send t back yet again. But I think it's important to mention.
The other "issue" is the build quality where the Display is set into the frame. The first and now the third monitor both had this slight flaw on each corner. Not affecting the function in any way, but the second monitor didn't have these.
This was all very annoying and I hope that three times a charm, so I can use this monitor for a long time to come. But I have to mention that the customer support was very fast to answer, always polite and generally as good as it could have been in this kind of situation.
This is obviously talking about BENQ Germany/Europe, but I would hope that they handle this the same worldwide.
Using the BENQ PD2700U
Let's talk about actually using the BENQ PD2700U and I have to say, I love looking at this monitor. They have this marketing term "Eyecare technology" where they promise a flicker-free panel which is generally easy to look at. And it's true. It "only" has 60 hertz but it does not flicker and I can look at this monitor for long periods of time without my eyes tiring. Which is something that was a huge issue for me working on my iMac and many other monitors that I had worked on at different companies.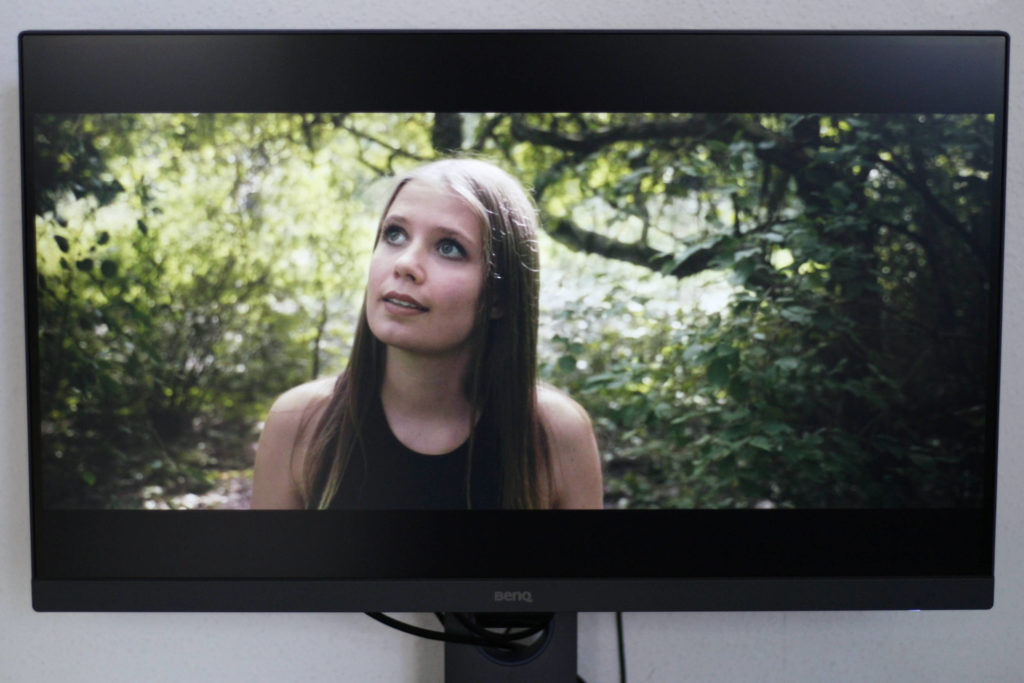 Brightness
Something else that I love, is that it is a matte display or BENQ calls it "Anti Glare Display". I have windows directly reflecting into the screen and this isn't an issue at all, even on very low brightness levels.
When I am doing VFX work, and I'm not judging any colors, I usually have the monitor on 20% brightness. Which is still more than bright enough to work without having too much ghosting when you close your eyes. And this is in daylight.
Again comparing this to other monitors that have a glossy display, I was usually very annoyed by the reflections and had to increase the brightness until it felt like a supernova when I closed my eyes and I still saw the image ten minutes later.
Viewing Angles
The viewing angles are ok but not good. If you look at the display with a slight angle, you will start to see a reddish hue in white colors and the outermost pixels are completely black.
This hasn't been a problem for me while working on it, but there are many displays that perform much better in this category. The contrast and the center area of the display stay almost normal when viewing it at an angle.
The included stand
The stand itself is generally very good, for an included stand or monitor stands in general. It can slide up and down, tilt horizontally and vertically, and even rotate by 90 degrees into portrait mode.
While I personally don't use it in Portrait mode, I do see the benefits to have a second monitor for example, in Portrait mode. While you theoretically could turn the monitor into Portrait mode and back while switched on, you probably won't do it as you have to be careful to not unplug any cables. You may need a second pair of hands to turn it while it's powered on.
Ghosting
For some reason, I always have issues with ghosting in nearly every device I own.
This also includes the BENQ PD2700U. When I am working on Projects I do have the same Softwares open for long periods of time. My main applications are SideFX Houdini and Blackmagicdesign Fusion. Both don't have a very contrasty UI so I didn't see ghosting from those. But I have noticed visible ghosting after using Notepad++ for scripting and then switching into Fusions (mostly dark) UI. Nothing permanent but I was surprised that such an LCD Display, created for artists and designers, has issues with ghosting.
I'm sure most of us have the same app open, often for the whole day.
Image modes
The monitor has several different profiles it ships with. These are Rec.709, sRGB, HDR, CAD, Animation, Low Blue Light, and Dark Room.
Rec.709, sRGB and HRD are pretty self-explanatory and I am usually switching between Rec.709 and sRGB. Depending on whether I am working on something for TV or Web.
Dark Room and Low blue light should be clear as well.
I don't find myself using HDR at all. I never had to deliver in HDR and haven't found any HDR content yet that I would call "pleasing to the eye". But the monitor will detect HDR content and automatically switch to the HDR mode.
CAD and Animation are both high contrast modes to make wireframes more visible. Nice to have but most 3D Applications are capable to change the line thickness and color anyway. So you can enjoy more visible wireframes without increasing the contrast everywhere. There is the possibility for the monitor to have different profiles for different applications which it detects automatically though. More about this on the next page (or click here).
I don't find myself switching between these modes a lot, if at all. Mostly because the on-screen menu is easy to understand, but it's not easy to navigate. As you only have the buttons on the bottom right corner of the monitor.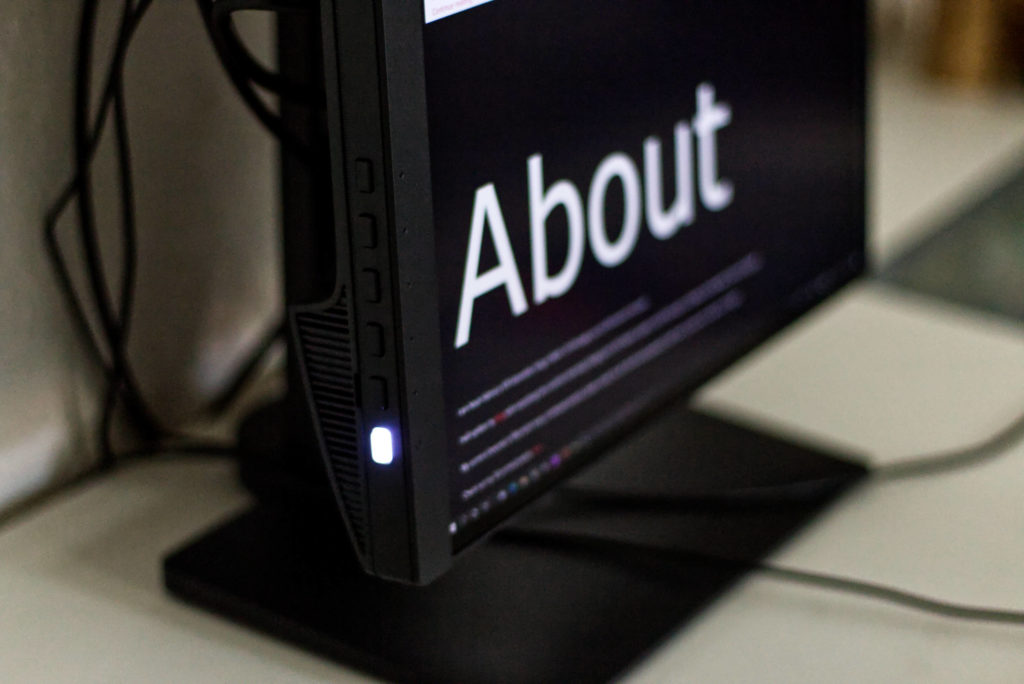 I know that more expensive monitors of this product line feature what BENQ calls a "Hotkey Puck". A little device to quickly change settings. But this monitor does not come with one. I also wasn't able to find out if you can buy it separately or if it would work with this monitor. People that have this Hotkey Puck usually praise it for the great navigation, and I guess that this would make me use the different modes more.
You can use the DisplayPilot Software as well to change the settings which I talk about here on the next page.
Conclusion for the BENQ PD2700U
Do I recommend the BENQ PD2700U, even after all the issues I had and still have with it?
Yes! It's a great monitor in most aspects and frankly, there is simply no competition in this price range. Monitors that feature 100% sRGB and Rec.709 color space are scarce. BenQ could've stripped this monitor from its speakers, the USB Hub, and the many features like Auto Pivot or partitions (explained here on the next page) without me complaining.
The color space alone would still make this a great deal. The addition of said features is a big plus on top. The included stand is very good and little details like the handle are very much appreciated.
And I haven't found another manufacturer including such a versatile stand with their monitors.
If you are doing professional work, but don't want or can't spend upwards of 2000€ ($) than the only monitor I could recommend right now is the BENQ PD2700U. For just under 500€, you will get a great monitor that is easy on the eyes and designed for 3D or Graphical work. From a company with, in my experience, exceptional customer support.
If you know of any alternatives or have experience with BenQ then I would love to hear your opinion!
As mentioned before, on the next page I will talk about the many more features the DisplayPilot Software from BENQ offers in conjunction with the BENQ PD2700U.